Stagecoach West of Scotland League Central District First Division
Gasworks Park
Larkhall Thistle v Carluke Rovers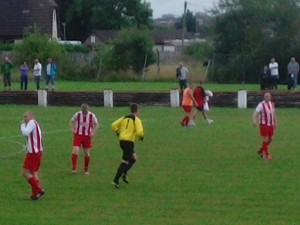 A promising looking day for Thistle turned into one of disappointment as they fell into the old habit of throwing away a two goal lead. A game that never looked like being anything other than a home win ended up costing the home side two valuable league points. In what was the tightest of leagues last season this result might come back and haunt the Jags.
Thistle lined up with Hugh Kelly and Mark McKeever back in their more familiar midfield roles with Mark Weir and Mark Russell returning to the defence to take their places. Making way were Graham Gracie and Johnny MacKay who started on the bench.
The first half passed off relatively quietly with neither team creating very much in the way of chances, until Mark Canning picked up the ball in the middle of the park. He ran forward and hit a shot which he scuffed badly, but it broke out to the left and was crossed in for Scott McLachlan to finish from close range.
Half Time: Larkhall Thistle 1 Carluke Rovers 0
Larkhall brought on Johnny MacKay for McKeever almost immediatedly after half time, while Carluke started the second half looking like they had had the proverbial rocket and put Thistle under pressure for the first 15 minutes of the half. Only a great last minute block from Andy Brown stopped the visitors levelling the scores on the hour mark.
The Jags brought on striker Graham Gracie for Ross McGeachie with 25 minutes left and on the 80th minute Johnny MacKay looked to have sewn the points up for Thistle when he set off on a solo run down the left wing. MacKay hit a shot from the edge of the box but the keeper misjudged it badly, seeming to move to his left out of the way of it. 2-0 to Larkhall and that should have been game over.
Carluke rallied in the last 10 minutes and a break down the left saw the ball fall betwen Thistle keeper Thomson and the oncoming Carluke striker Arnott who got to the ball before the diving keeper and dinked it into the empty net. 2-1 and Thistle were on the back foot, booting the ball out of play from the restart and looking increasingly under pressure.
Two minutes from the end, with the home side looking like holding out for the win, Carluke pressed forward again and were awarded a highly controversial penalty when the referee judged Mark Weir had pushed a Carluke player in the box during a tussle at a corner. Weir was booked for persistent fouling and sent off as it was his second yellow. Barr steped up and converted the penalty and Carluke had won an unlikely point.
Full Time: Larkhall Thistle 2 Carluke Rovers 2
Larkhall Thistle:
Thomson; Russell, Weir, Brown, Richardson; McKeever, Canning, Kelly, McLachlan; McGeachie, Grant. Subs: MacKay, Gracie Booked:Weir (red) Kelly, Canning
Carluke Rovers:
McLaughlan: Frame, McCrorie, Soutar, Barr; Weir, Napier, Cook, Stark; Ferguson, Arnott. Subs: Savage, Dickson, Stewart
Best for Thistle on the day were Brown, Grant and McLachlan