Gasworks Park, Larkhall
Larkhall Thistle v Kilsyth Rangers
McBookie.com Super First Division
The second half of the Rangers double-header was switched to Gasworks Park with the Kilsyth changing rooms being out of action.
Management team Dunky Sinclair and Tam McLaughlin were back in charge after last week's absence due to a wedding, also returning was Liam Mushett who was one of six changes from last week's starting line-up. Out went keeper Stewart Thomson and Graham Gracie with injuries, Niall Reynolds, Brian Jack, Billy Robb and David Reid. Taking their place were new keeper Johnny Duncan, Matty Clarke, Scott Nicholl, Mark Canning and Mark McKeever.
Kilsyth hadn't got off to the best of starts either with just a single point so far after a last minute pre-season change in manager and the loss of players, both teams were in need of a result to get their campaigns started.
Like the previous two games however, Thistle got off to a bad start with the loss of a goal after just seven minutes. Again the frailties at set pieces were exposed as a corner from the right was headed across the goal into the far corner. The goal didn't upset the rythm too much though and the Jags players looked determined to try and get the goal back as quickly as possible.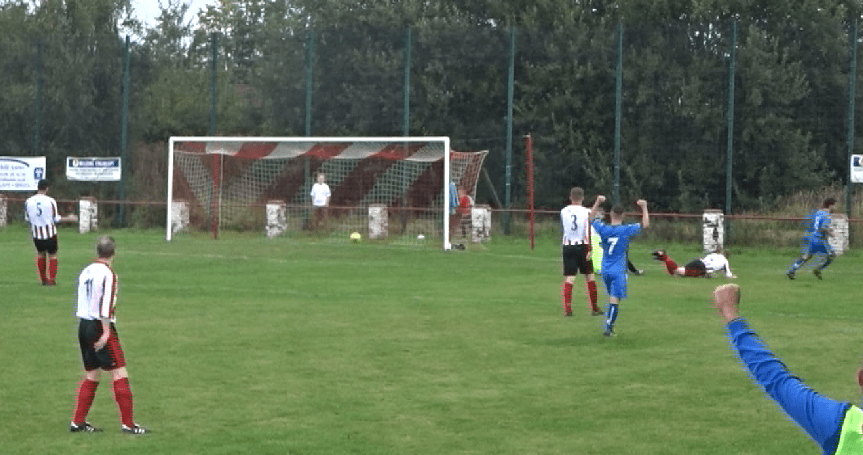 Ryan Innes had a couple of very good chances with close range headers but put them both straight into the keeper's arms in a game that he will probably want to forget. He found himself in forward positions more often than usual and as well as the two chances, took a sore one in the face from the Kilsyth goalkeeper, needing to go off for treatment. He also picked up a first half booking for being the third Thistle played to try and bring down Kilsyth's Davidson as he charged forward, slightly unlucky but he couldn't have any real arguments about it.
Kilsyth added to their lead in the 14th minute as the Jags kept up their 100% record of going two down in league matches. This time it was a long ball forward that Smith was first to reach and he slid it past the advancing Duncan.
If Thistle's last two league games have taught them anything though, it's how to deal with the loss of two early goals and for most of the rest of the game they were the better team. It looked like a goal would put them right back in with a chance and it came just before the half hour mark. A long ball from the right into the box was missed by two Kilsyth defenders who both seemed to mis-time their jumps and it fell to Mark McKeever who did well to get a good cross in for Johnny McStay to head home.
Half time: Larkhall Thistle 1 Kilsyth Rangers 2
It only took Larkhall two minutes of the second half to get level and again it was Johnny McStay who got the goal. The big striker was persistent in the box in what looked like a lost cause and got the break of the ball with it falling kindly to him to fire it across the keeper into the net.
The dust had hardly settled when McStay was in action again, going clear just outside the box where he was fouled by the Kilsyth defender in a last ditch effort to save his team conceding again. The defender was sent off for the challenge although Nicholl couldn't take advantage from a good position and sent his free kick wide.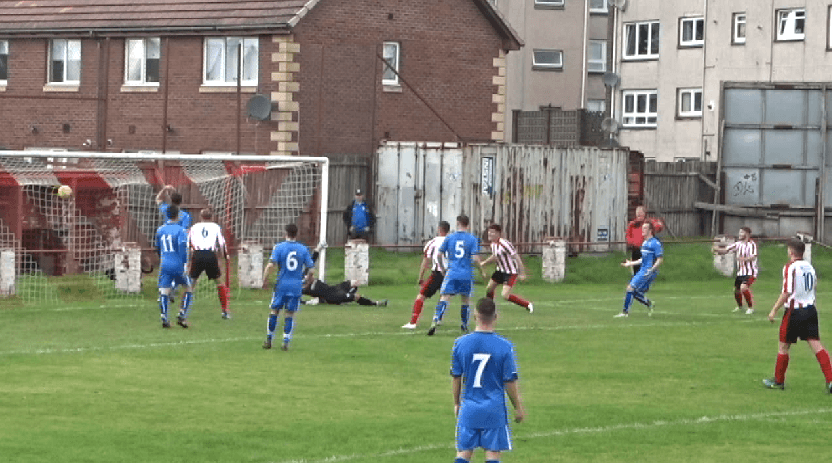 It was game on now and Thistle looked like the team who was most likely to get the winner, although Kilsyth did have their moments and were still dangerous looking on the break at times. The one man advantage only lasted for fifteen minutes however as Innes rounded off his day by getting involved in a scuffle and picking up a second yellow along with his opponent who was also booked in the incident.
Home hearts were in their mouths midway through the half when Kilsyth broke and a ferocious shot from the impressive McFadden spun off Anndy Brown's boot and looped up into the air, it looked like it might drop into the top corner of the net but scraped the bar as it went over.
The pressure was mostly in the other direction though and the Jags got the goal they deserved with twenty minutes left. Henderson in the Kilsyth goal dropped a clanger as he went out for a high ball and failed to claim it, McStay was on hand like all good strikers and stuck the ball away for his hat-trick.
He nearly had his fourth just minutes later with a great snap shot that flew a yard wide but three was enough on the day to give Thistle their first win of the season.
A cracking game, especially if you were on the home side, played for the most part in good spirits. Kilsyth played some good football in the first half and Thistle again showed their battling qualities to come away with all three points.
Full time: Larkhall Thistle 3 Kilsyth Rangers 2
Larkhall Thistle:
Duncan; Brown, Mushett, Nicholl; Canning (Jack 78); Payne, Forbes, Innes, McKeever, J McStay, Clarke (G McStay 80). Subs: Reynolds, Doyle
Kilsyth Rangers:
Henderson; Waters, Denholm, Falconer, Harrison, Kelly, McFadden, Smith, Farrell, Davison, Wright. Subs: Kane (GK), Reid, McLaughlin, Dolan, Janik
Scorers: J McStay (3)
Booked: Mushett, Nicholl
Sent off: Innes
MoM: Unlucky on Scott Nicholl again who had a really good game but three goals = MoM, rules are rules.
Sorry about the video this week, only got the first half before the camera packed in.