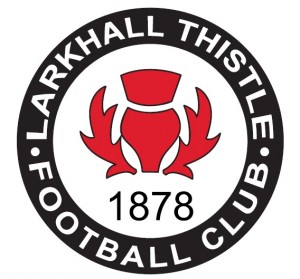 President:     Chris Lenson
Manager:     Duncan Sinclair
Larkall Thistle is a junior football club based in South Lanarkshire in Scotland. Thistle are the oldest junior football club in Scotland and currently play in the Stagecoach West of Scotland League Central District First Division.
Larkhall Thistle were founded in 1878 making them the oldest junior football club in Scotland. They started out at Loch Park in Larkhall but in 1881 moved to their present home, Gasworks Park, situated just behind the main cross in Larkhall. They have just finished the last season of sharing the ground with local rivals Royal Albert.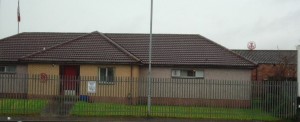 Gasworks Park is thought to be the only junior park in Scotland to have hosted the Junior Cup final, on two occasions in 1888 and 1889.
Also known as the Jags or sometimes Larky, they play in red and white vertical striped shirts with black shorts. The away strip is currently blue and black vertical stripes, similar to Inter Milan. Other recent away tops have included Argentina style light blue and white vertical spripes.
Thistlqe have had a long and often successful life in the junior ranks and as well as many minor league and cup triumphs, they have won the ultimate honour in Scottish Junior football, the Scottish Cup, on two occasions – in 1907–08 and 1913-14, beating Queens Park Hampden XI 1-0 and Ashfield 1-0 after 1-1 and 0-0 replays. Thistle also lost a final in their first appearance in 1902-03, going down 3-0 to Parkhead.
The club has been a rich breeding ground for players and managers in the senior game both for teams in Scotland and beyond. Many ex-players have gone on to play senior football, indeed it is thought more than any junior club, including:
David Richards – Port Vale, Dundee United, Luton Town
Alex Raisbeck – Hibs, Stoke, Liverpool. Partick Thistle
John Hutton – Aberdeen, Blackburn Rovers
Andy McLaren – Preston North End, Burnley, Sheffield United
Jimmy Carabine – Third Lanark
George Brown – Kilmarnock, Airdrie, Clyde
Gerry Baker – St. Mirren, Hibernian, Ipswich Town, United States
Billy Boyd – Clyde, Manchester United, Southampton
Jim McLean – Clyde, Dundee, Kilmarnock
Tommy Cairns – Rangers,  Bristol City, St Johnstone
Davie McParland – Partick Thistle
John Clark – Celtic, Morton
Alan Sneddon – Hibernian, Celtic, Motherwell
Jock Ewart – Airdrie, Bradford City, Preston North End
Tommy Ewing – Partick Thistle, Aston Villa, Morton
Jimmy Gibson – Partick Thistle, Aston Villa
Neilly Gibson – Rangers, Partick Thistle
Jock Govan – Hibernian, Ayr United
Willie McStay – Celtic, Huddersfield Town, Kilmarnock
Hugh Burns – Rangers, Hearts, Dunfermline, Ayr United
Footnote:
In Scotland, junior football is non-league football played by men as distinct from other parts of the UK where junior football refers to the boys game. Players are paid depending on the club budget but well run junior teams can often pay more than senior league teams.