Stagecoach West of Scotland League Central District First Division
Gasworks Park, Larkhall
Larkhall Thistle v Shettleston
Larkhall Thistle met Shettleston in a must win game for both teams if they were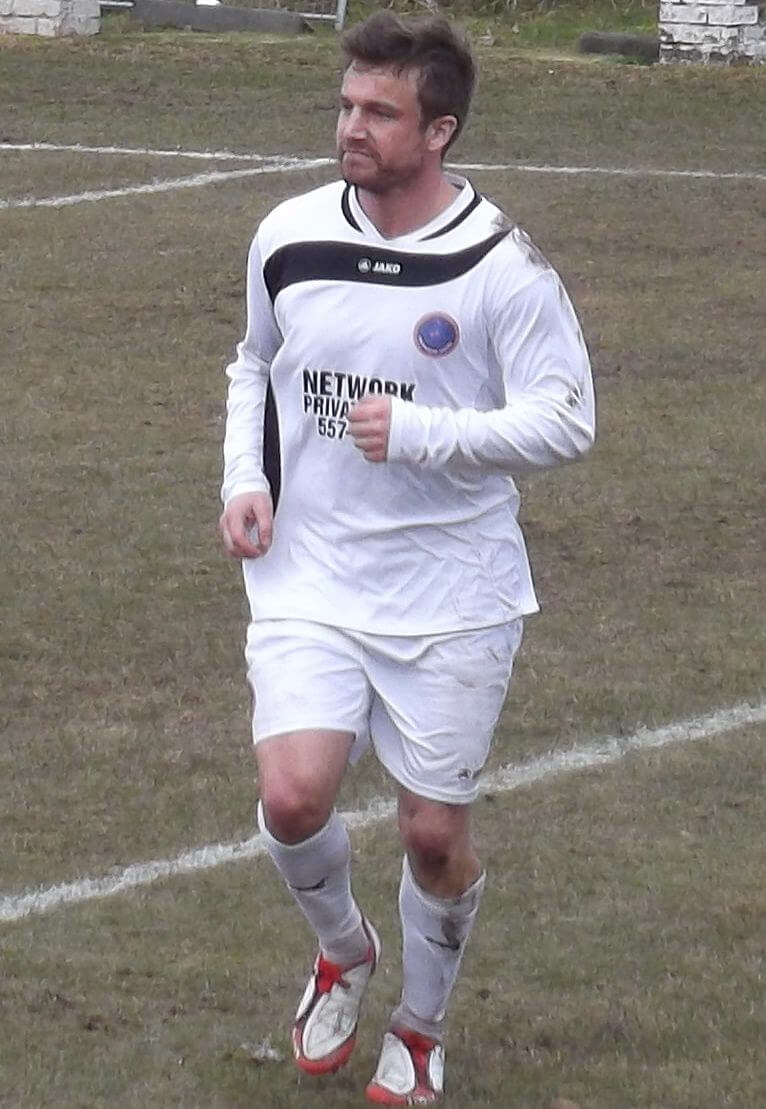 to have any realistic chance of promotion and in the end it was the team from the east end of Glasgow who showed they might still be in there at the shake-up. Shettleston have spent money recently and their team was virtually unrecognisable from the early-season side who had started their campaign so badly, with some impressive new signings including ex-St Johnstone player Keigan Parker (right).
Thistle made a couple of changes from last week's win at St Roch's, Mark McKeever returned from suspension to right midfield with Mark Russell dropping to right back. Andy Brown moved inside to centre half replacing Mark Weir in the middle. New starts Sandy Strang and John Bulloch from last week both kept their places.
The Jags started the game fairly well and had an early half chance when the ball was played up to Strang in the fifth minute, he controlled it well on his chest and flicked it over his head into the path of Graham Gracie 10 yards out but the Shettleston defender did well to get himself between man and ball and clear the danger. Gracie was involved again five minutes later when Bulloch sent a great ball into the middle of the box for him to chase, he controlled it with his first touch and flicked the ball over the outrushing keeper but unfortunately over the bar too.
Shettleston did take a while to warm up but they were starting to get the upper hand in possession and got their breakthrough in the 18th minute when a good ball in found Smith unmarked on the left of the box, the big striker took a touch and fired the ball into the bottom corner past helpless Jags keeper Davie McEwan.
Thistle battled to get back into the game but their play was lacking in any creativity and they failed to produce any clean cut chances. Shettleston were looking the more dangerous side and it was no real surprise when they extended their lead in 29 minutes although the goal was partly self-inflicted. Davie McEwan failed to get any length on a kickout and it was intercepted by Parker for Shettleston, he set off down the right and put a good cross in for a shot that McEwan managed to save only for it to drop to Shettleston's Chris McCormack who had the easiest of tasks in slotting home from 8 yards.
Thistle produced nothing of note in the rest of the first half and it was the visitors who nearly went into the interval even further ahead when Doyle burst through the middle into space but only managed to hit his effort over the bar.
Half Time: Larkhall Thistle 0 Shettleston 2
Larkhall manager Duncan Sinclair made a couple of changes at half time to try and get them back into the game, Steven McInall replacing Mark Russell and Scott Nicholl coming on for John Bulloch and it was McInall who led the way in the Jags attempts to get themselves back level with some great touches and a range of pinpoint passing.
It was McInall who produced what turned out to be Thistle's best effort of the second half after only six minutes, the ball bobbled about in the box and was half cleared to the Jags man who hit a daisy cutter from 25 yards that keeper Keenan had to dive full length to tip past his left post.
From then on however it was mostly downhill for the home side and Shettleston put the game beyond doubt just four minutes later. A good ball down the right wing saw Parker in acres of space and although Andy Brown managed to get across, the ex-senior left him in his wake as he powered into the box and cut back for McCrane to tap into the empty goal.
Brown picked up a knock in trying to stop Parker and although he managed to come back onto the park and play on, it was clear he was injured and was replaced five minutes later by another debutant – Jordan Marshall, son of former Thistle player Gary Marshall.
The Shettleston defence was coping with anything that Thistle could throw at it, which was mostly long balls up in the direction of Strang and Gracie and the frustration of not being able to create any chances spilled over into a spate of bookings. Firstly Canning got involved with Shettleston's Crichton in the aftermath of a tackle and both players saw yellow, then Alan Fleming picked up a booking for a tackle and Gracie followed them into the book for a niggly challenge. Finally Scott Nicholl got involved in a locking of foreheads with McCormack, both players receiving a caution.
Thistle plodded away for the rest of the second half but the long ball game that has served them well in some games was getting them nowhere and there wasn't much of a plan B leaving Shettleston to see the game out comfortably. Parker almost made it four for the visitors a minute from time when he intercepted a short back pass and nicked in for a shot but McEwan did well to clear for a corner.
So a bad day for Thistle but on this display Shettleston are the best team Thistle have played in the league this season and the money they have spent has ensured they are now genuine promotion contenders.
Full Time: Larkhall Thistle 0 Shettleston 3
Larkhall Thistle:
McEwan; Russell, Brown, Fleming, Richardson; McKeever, Canning, Kelly, Bulloch; Strang, Gracie. Subs McGeachie, McInall, Nicholl, Marshall
Booked: Canning, Fleming, Gracie, Nicholl
Shettleston:
Keenan, McGill, Juckowick, Crichton, Dickson, Doyle, Parker, McCormack, Smith, Boyle, McCrane. Subs: Thomson, Kelly, McEwan, Scott, Cairney
Best for Thistle on a day when nothing really went right was Richardson, with a very good second half performance from McInall.