Scottish Junior Cup Fourth Round
Gasworks Park, Larkhall
Larkhall Thistle v Hurlford
This was the first Scottish Cup game that Larkhall Thistle groundsman and ever-present supporter Hugh Kerr had missed since he returned from El Alamein, but unfortunately his and the rest of the Jags supporters dreams of cup glory ended here in what was ultimately a disappointing exit to cup favourites Hurlford.
Other than recalling keeper Davie McEwan from injury, Thistle started with the team that finished the game against Lanark. That meant Jordan Marshall kept his place at right back with Niall Reynolds starting at left back and Scott McLachlan playing in midfield. Hugh Kelly and Stuart McIntosh dropped to the bench with Lee Moss.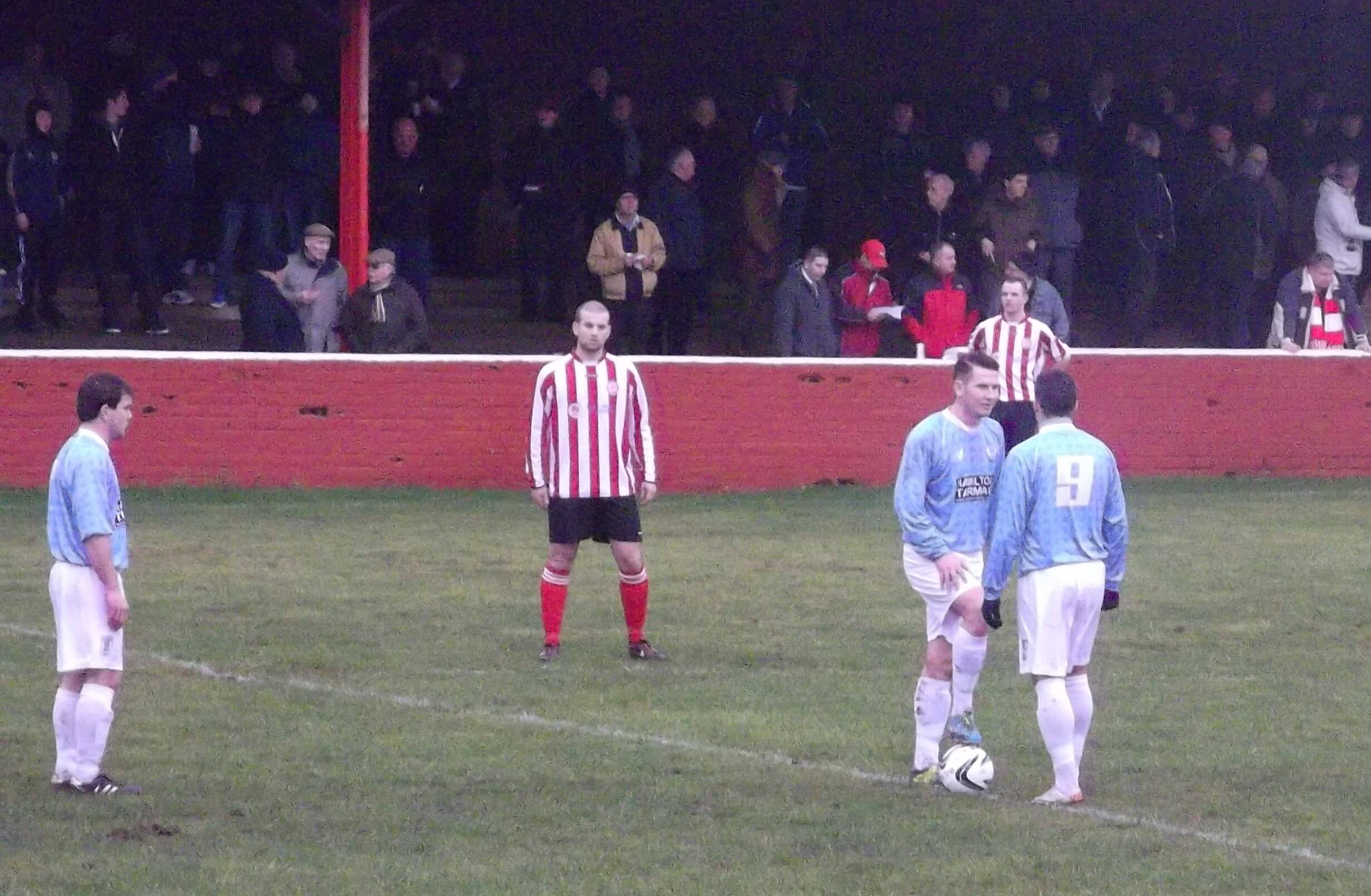 The pitch survived an early inspection and was never in any doubt although it was heavy and as the game went on it became worse as it cut up.  Hurlford started the game like they were determined to get it over and done with in the first twenty minutes and Thistle survived wave after wave of attack from the visitors and had no real answer to a combination of experience and their superior pace and fitness.
Hurlford threatened as early as the fourth minute when left midfielder Paterson looked to have slipped and lost possession on the edge of the box. He managed to recover and lay it back for the impressive McKenzie to cross to the back post where the free header went just past. An early warning then for Thistle and a taste of what was to follow.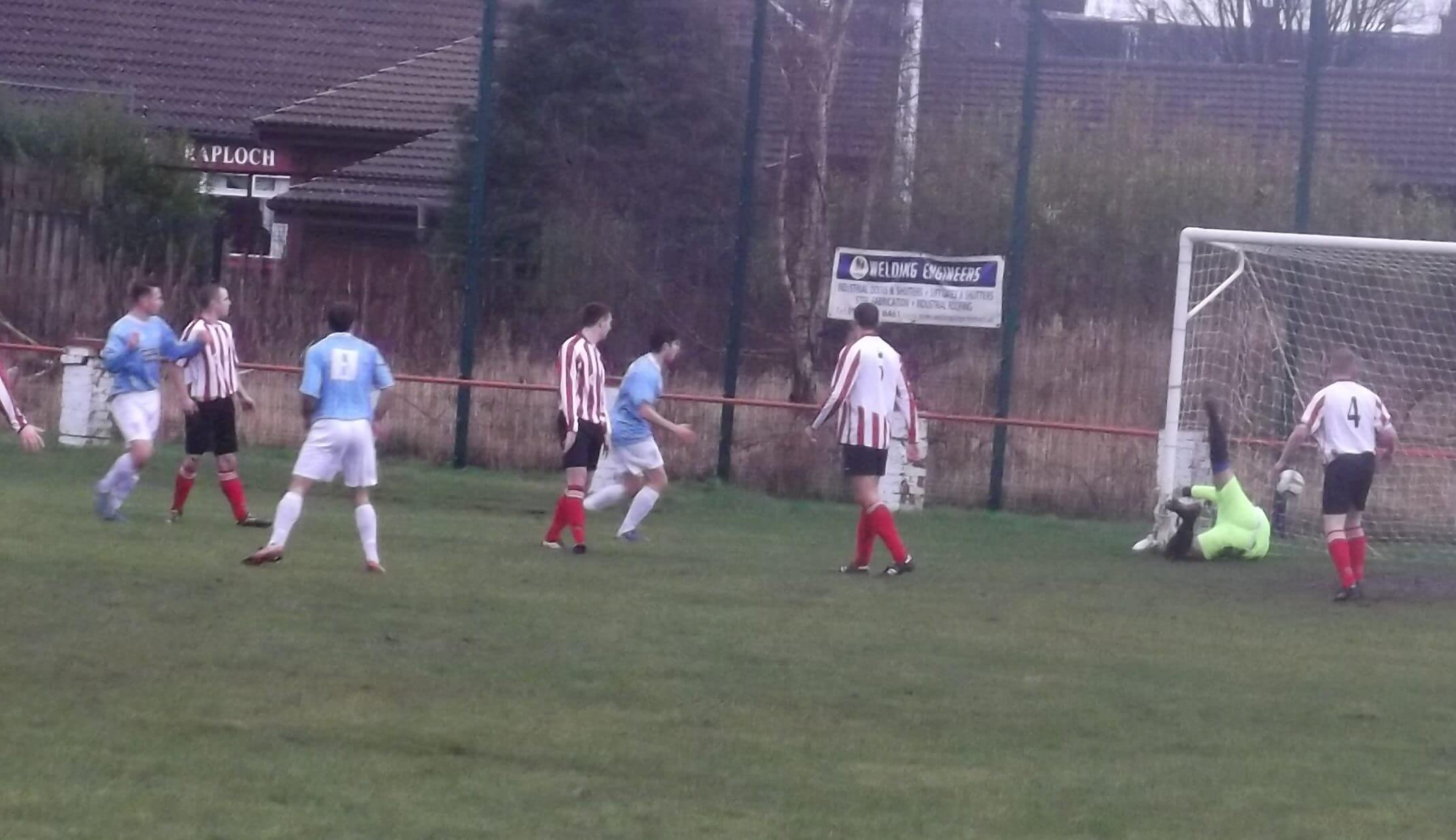 In the ninth minute the visitors again went close when nice work by right back Cameron set up McKenzie for a shot but Davie McEwan got down well to hold. Andy Brown slid in well to block a couple of minutes later after a Hurlford free kick had broken back to the edge of the box.
Fifteen minutes were gone and Larkhall had hardly been across the halfway line, it looked just a matter of time before the goal came for Hurlford but Graham Gracie surprised keeper Brown with a chip from just inside the halfway line that he stretched up well to hold.
Hurlford  continued to press and dominate possession but the Jags defence was standing firm and in the 24th minute Thistle made a rare visit up towards the opposition goal when Ross McGeachie rose well to knock down for Gracie, but his cross was more hopeful than anything else and there was nobody there to meet it.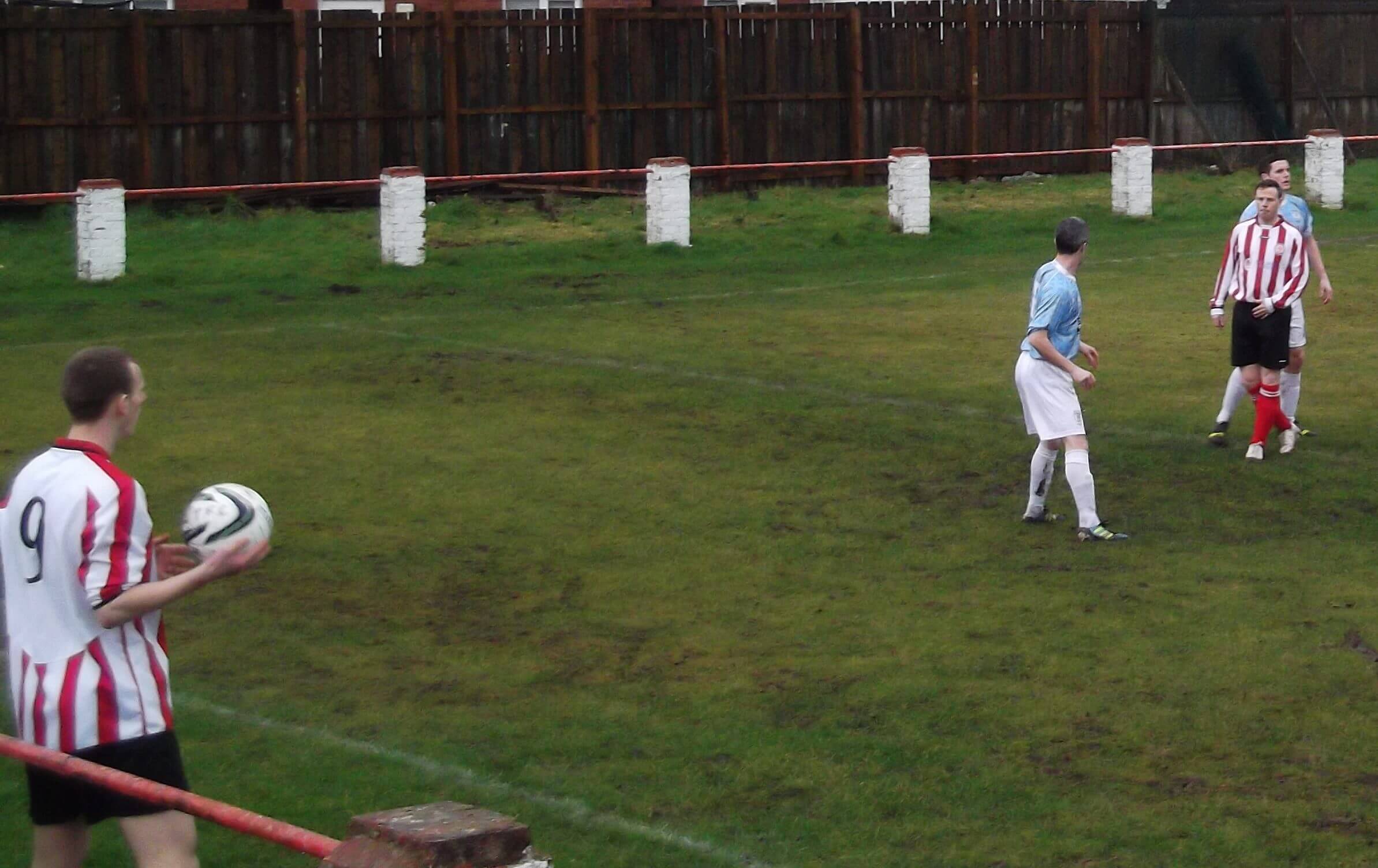 The best passage of play in the match came eleven minutes from half time in a frantic two minute spell where either side could have scored. Firstly Hurlford's Byrne left the Jags defence standing as he broke down the left wing, he played a perfect ball right across the six yard box but Kean sliding in managed to skew his effort wide. Thistle broke up the park immediately and Gracie found space on the right side where he cut in and curled a great effort that the keeper got a fingertip to. The resulting corner kick fell to Ryan Innes on the edge of the box but his shot was straight at the keeper.
The visitors bench, which up till now had been in confident mood, suddenly sensed a potential upset and their anxiety was made worse just before half time when Danny Mitchell  was sent off for a crunching tackle in the middle of the park. Thistle's Niall Reynolds also picked up a yellow right on the whistle for a tackle.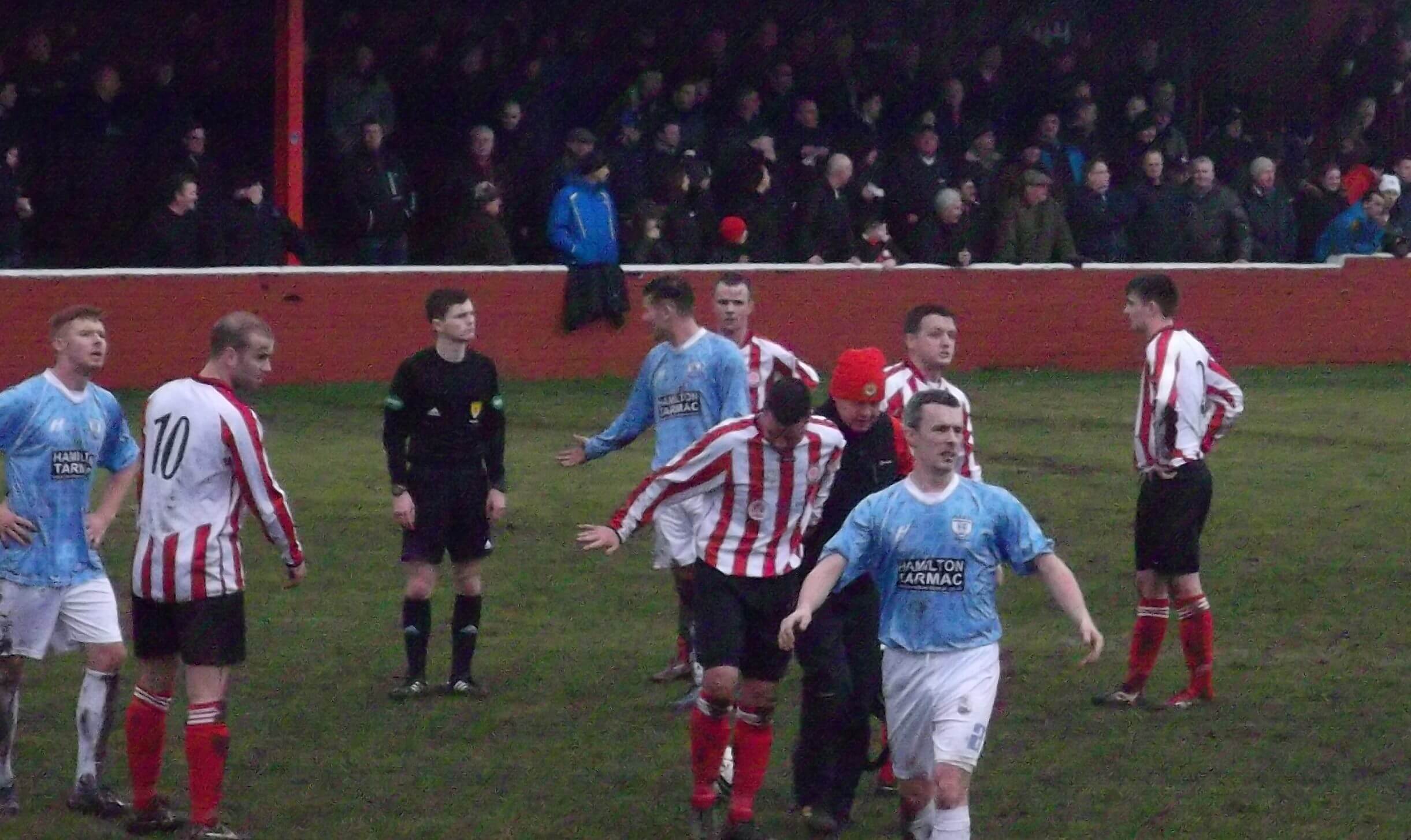 Half Time: Larkhall Thistle 0 Hurlford 0

The Larkhall Thistle management must have been as delighted as the supporters to go in to the break on level terms and now with a man advantage the Jags looked to go one better in the second half. Right from the start though it was apparent that the task wasn't going to be any easier despite the extra man and it only took three minutes for Hurlford to threaten the Jags defence again with a shot from the edge of the box that Davie McEwan did well to get down to and hold.
With Thistle still holding out at the back and growing in confidence, manager Dunky Sinclair decided on a tactical switch at the back, withdrawing Scott McLachlan for Hugh Kelly who went to left back. Reynolds switched to right back and Jordan Marshall pushed up into midfield where young Scott had been finding the going tough.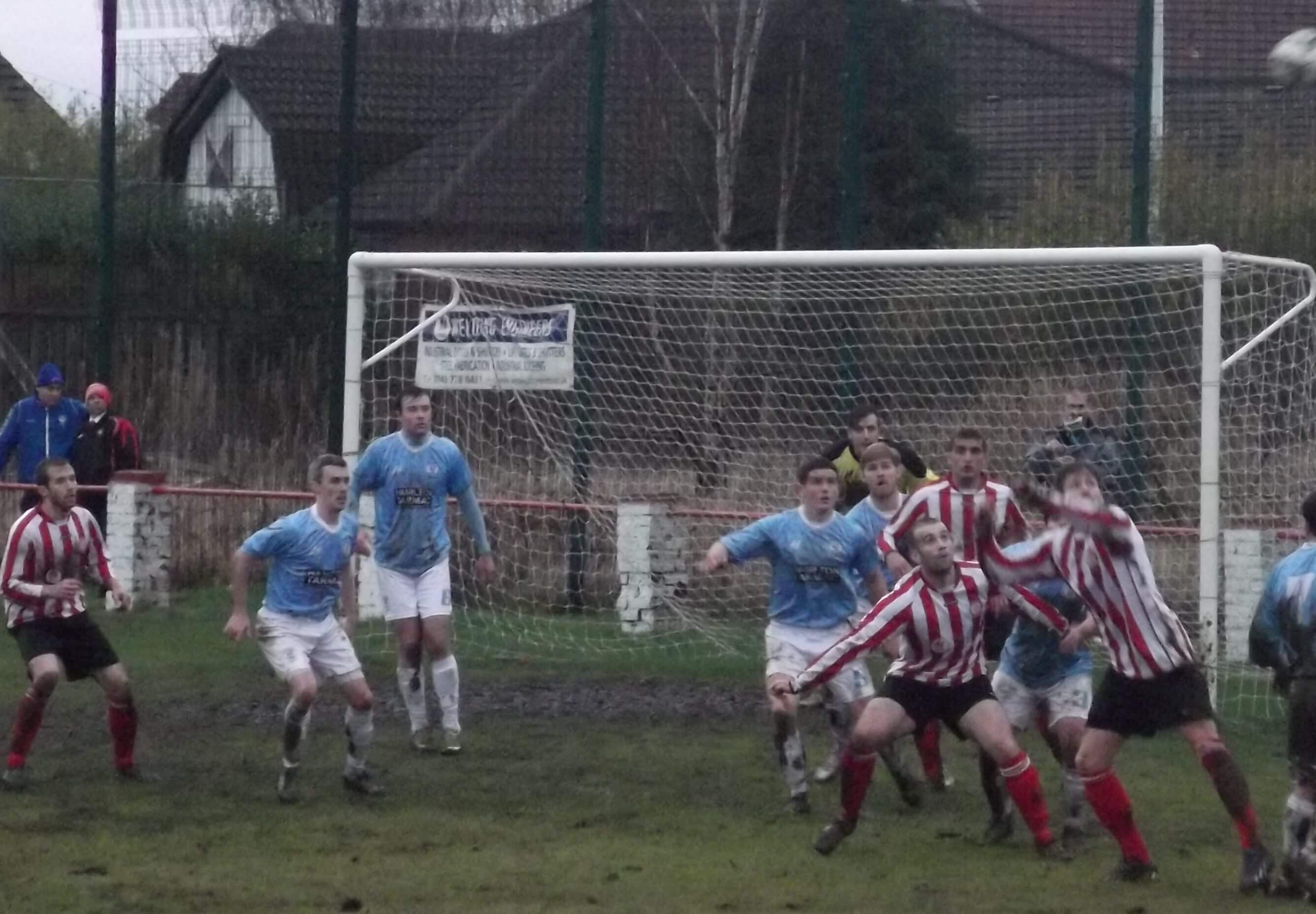 Three minutes later however the Jags hopes were in tatters as a corner was sclaffed by McEwan and nodded in to put Hurlford one up. That was the start of a disastrous eleven minute spell for Thistle where they lost three goals and their place in the cup with it.
Thistle brought on sub David Garcia to try and add a bit of creativity but like a couple of others he may not have been fully fit and didn't really show the level of ability he is capable of. Ryan Innes was taken off but it looked like it must have been him not fully recovering from Mitchell's challenge as he was easily Thistle's best midfielder in the first half.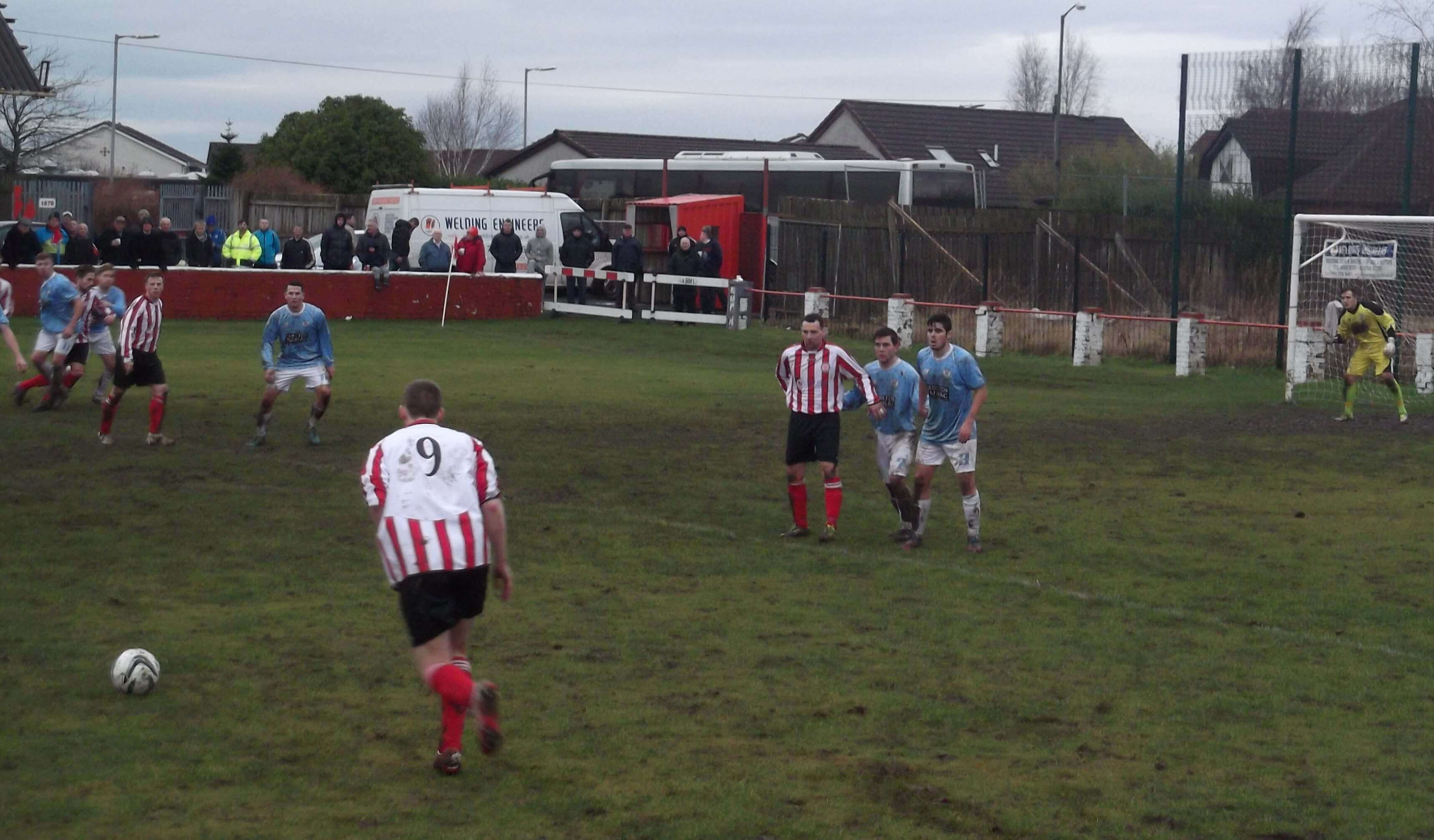 The second goal came from another corner on the left, this time it was Mitchell who found himself in isolation and powered home his header. Gracie almost put the Jags back in the game when he showed some excellent footwork to take the ball into the box and get off a good effort with his toe but it went just past the post.
The game was over in he 67th minute in one of the most bizarre incidents seen at Gasworks Park for many a year. Garcia went in for a challenge 30 yards out and was judged to have fouled his opponent. Hurlford keeper Ally Brown sent his defenders up the park and took the kick himself, floating it towards the Jags goal where the Hurlford attack all missed it but did enough to put McEwan off and the ball dropped straight into the goal.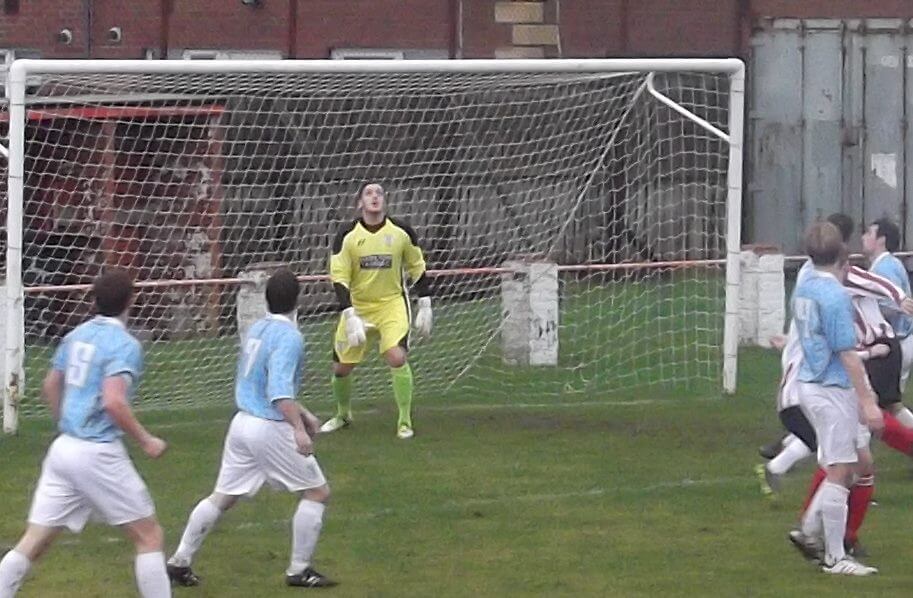 So a good learning experience for some of the younger Thistle players who now know what the required standard is in the top league and what it's like to play in front of a noisy crowd.
As for Hugh, he is in recovery after a serious operation and I'm sure everyone connected with the Jags will join me in wishing him a speedy recovery and hope to see you back soon Hughie for the run-in.
Full Time: Larkhall Thistle 0 Hurlford 3

Larkhall Thistle Team:
McEwan; Marshall, Brown, Cassidy, Reynolds; Innes, Canning, McLachlan, McKeever; Gracie, McGeachie. Subs: Moss, Jack, Kelly, McIntosh, Garcia
Hurlford United:
Brown, Cameron, Byrne, McGregor, Mitchell, Brown, McKenzie, Mitchell, Ryan, Robertson, Paterson Subs: Masterton, Nielsen, Gibson, Watt, Calder
Booked: Reynolds
Best on the day for Thistle – The defence was excellent in the first half but lost two goals from free headers so the verdict goes to Ryan Innes who looked easily capable of living with players at a higher level.