Loch Park, Lanark
Lanark United v Larkhall Thistle
Lanark is one of the most inaccessible grounds to get to in the whole of the juniors at the best of times, but when it takes nearly an hour to do the 14 miles along the Clyde you know that spring has arrived and the weekend drivers are heading for the garden centres in force.
Thistle arrived with only twelve players who were both fit and not suspended and manager Dunky Sinclair did well to cobble a team together. Mark McKeever started at left back and David McPhee made a rare appearance at right back. Matty Clarke started in central midfield and Brian Jack wide right. Ross McGeachie returned up front to partner Graham Gracie.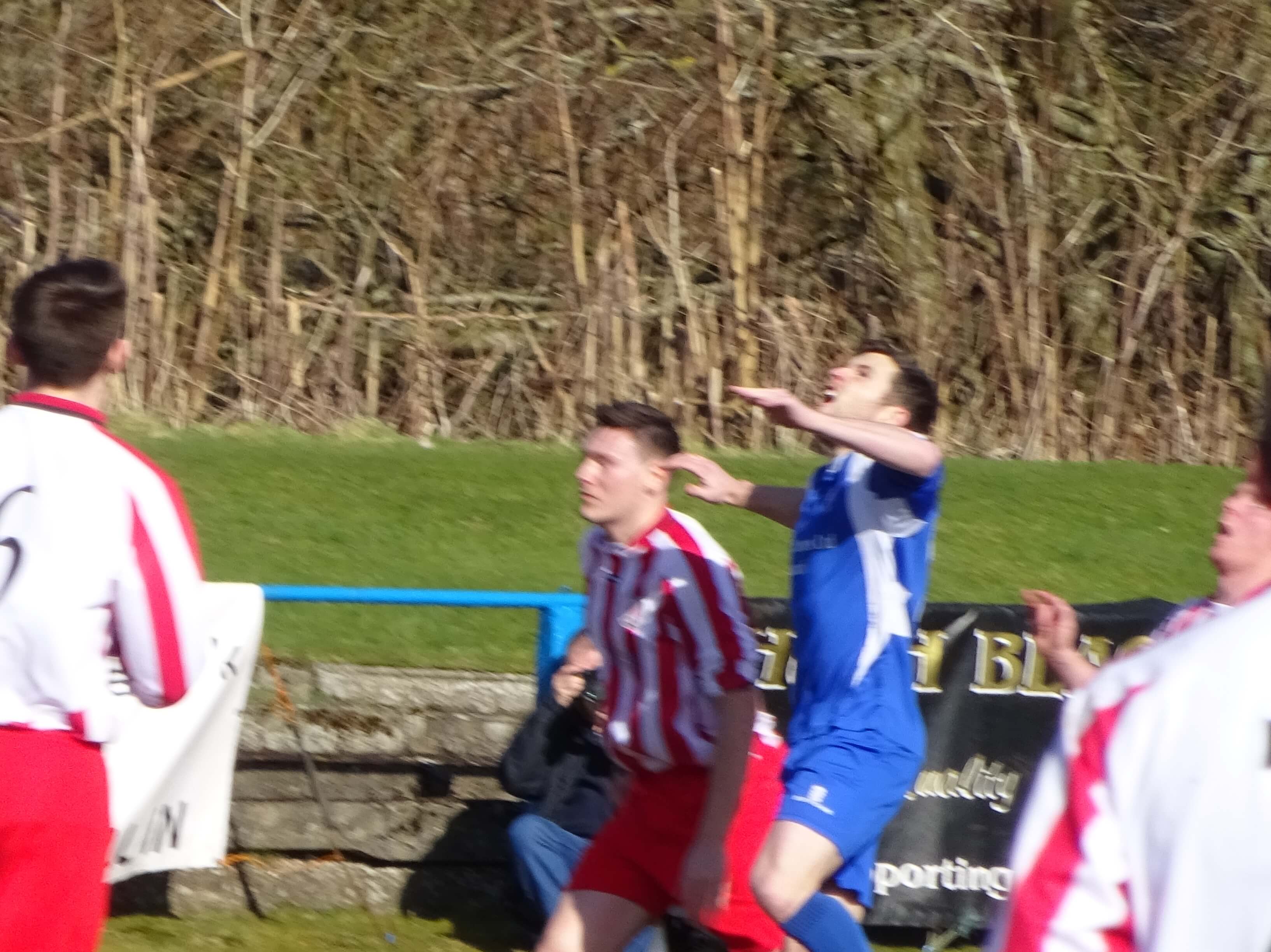 Lanark took the lead in the 22nd minute when a forward ball from Jordan Marshall was intercepted before it reached David Reid, the Lanark player broke away down the right and his cross found Docherty in too much space with time to pick his space in the bottom corner.
Seven minutes later the lead was doubled when Jags keeper Alan Colquhoun wandered out of his box and was caught out and lobbed by Morgan, the ball dropping into the empty net.
Although two goals down, Thistle didn't give up and did their best to try and get back into the game. Firstly from a 34th minute effort by Gracie from a McGeachie lay off, then a couple of minutes later McGeachie again headed a free kick to the back post but it went just past before Reid could get on the end of it.
Just on half time Lanark nearly scored again when Morgan broke away down the left but his shot went just past the post.
Half Time: Lanark United 2 Larkhall Thistle 0
Larkhall came out for the second half looking for the early goal and Reid made an early run down the right into the box but cut his cross back too far. Four minutes into the half it got worse for Thistle as Lanark were awarded a penalty which was converted well by Docherty. Four minutes later it was all over as the home side scored a fourth from a corner, Morgan's effort bouncing up and in off the bar.
The Jags brought on their only available substitute Ian Cooke in place of Matty Clarke in the 61st minute but the change didn't really make any difference to the flow of play, the game was out of sight.
Thistle did have a brief flurry in the 76th minute when a ball from Schoneville was headed on by McGeachie to set up Gracie but the striker was crowded out by three home defenders and he couldn't get a shot away. The scoring and embarrassment for Thistle was completed in the 79th minute when Henderson latched on to a fumble by Colquhoun and slotted the ball home.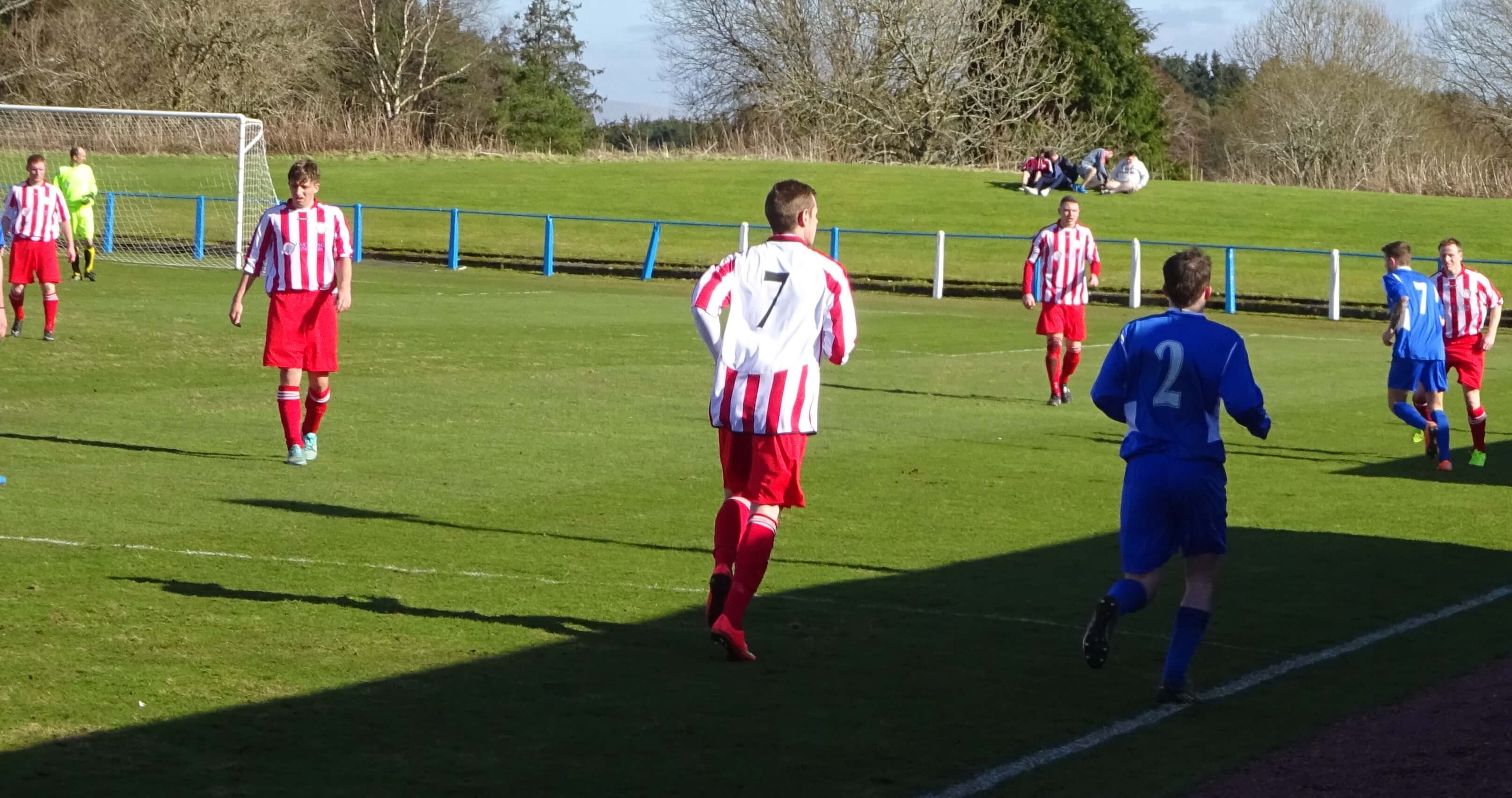 As per usual Thistle had a man sent off, this week it was Reid for a petulant kicking away of the ball out of frustration at not being given a decision in his favour. On the bright side, one positive to take from the game is that there was only one Jags player sent off this week.
Full Time: Lanark United 5 Larkhall Thistle 0
Larkhall Thistle:
Colquhoun; McPhee, Brown, Schoneville, McKeever; Reid, Marshall, Clarke (Cooke 61), Jack; McGeachie, Gracie
Thistle scorers:
Booked: Clarke, Schoneville, Colqhoun Sent off: Reid
Best on the day for Thistle: Ross McGeachie for at least doing his job well enough as a target man.