Central League First Division
John Cumming Stadium, Carluke
Carluke Rovers v Larkhall Thistle
Thistle started the game with sweeping changes as the manager looked to try and turn the tide of recent results. Back came Hugh Kelly into a holding midfield role while Mark McKeever formed a new strike partnership with David Reid at the expense of Graham Gracie and Ross McGeachie who were both carrying minor niggles. Jordan Marshall was restored to centre back in place of Andy Brown who dropped to the bench and there was a start for Ian Cooke in the wide right position.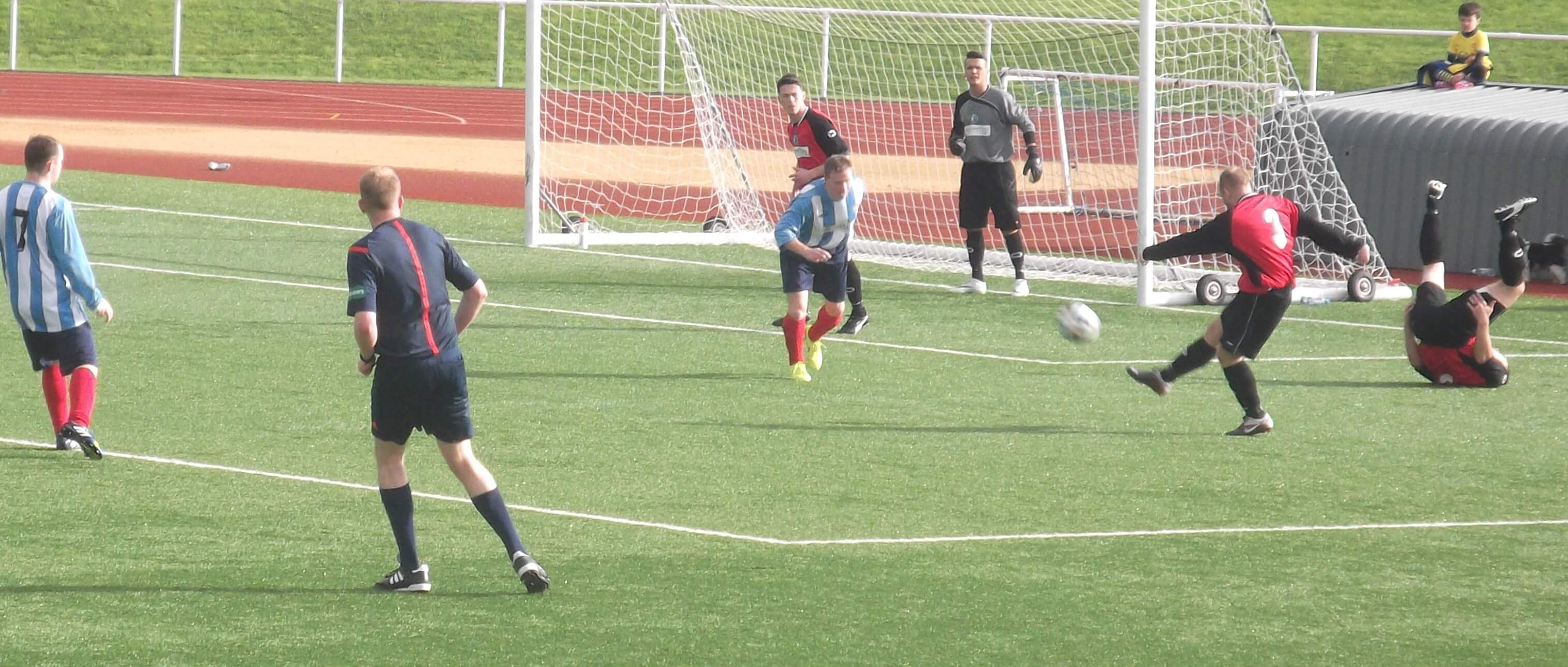 Unfortunately the new line up was just about the only interesting thing of a very tame first 15 minutes as the two teams hardly mustered a shot between them, although Thistle kept the ball well with Hugh Kelly having the look of a young Pirlo about him in midfield. Mark Canning had a pop from 25 yards in the 16th minute and that was followed shortly after by a Mark McKeever effort from even further out but this one dipped and went a lot closer.
Carluke were getting caught offside repeatedly in the early stages and there were calls from the home fans that the referee was going by the shouts, and in the 20th minute there was a clear case of the tables being turned as he awarded the home side a penalty. There was a bit of a melee in the box at a cross ball and a hand did get raised, but it was a Carluke player not Niall Reynolds who handled it although the shouts seemed to convince the referee that it was a spot kick.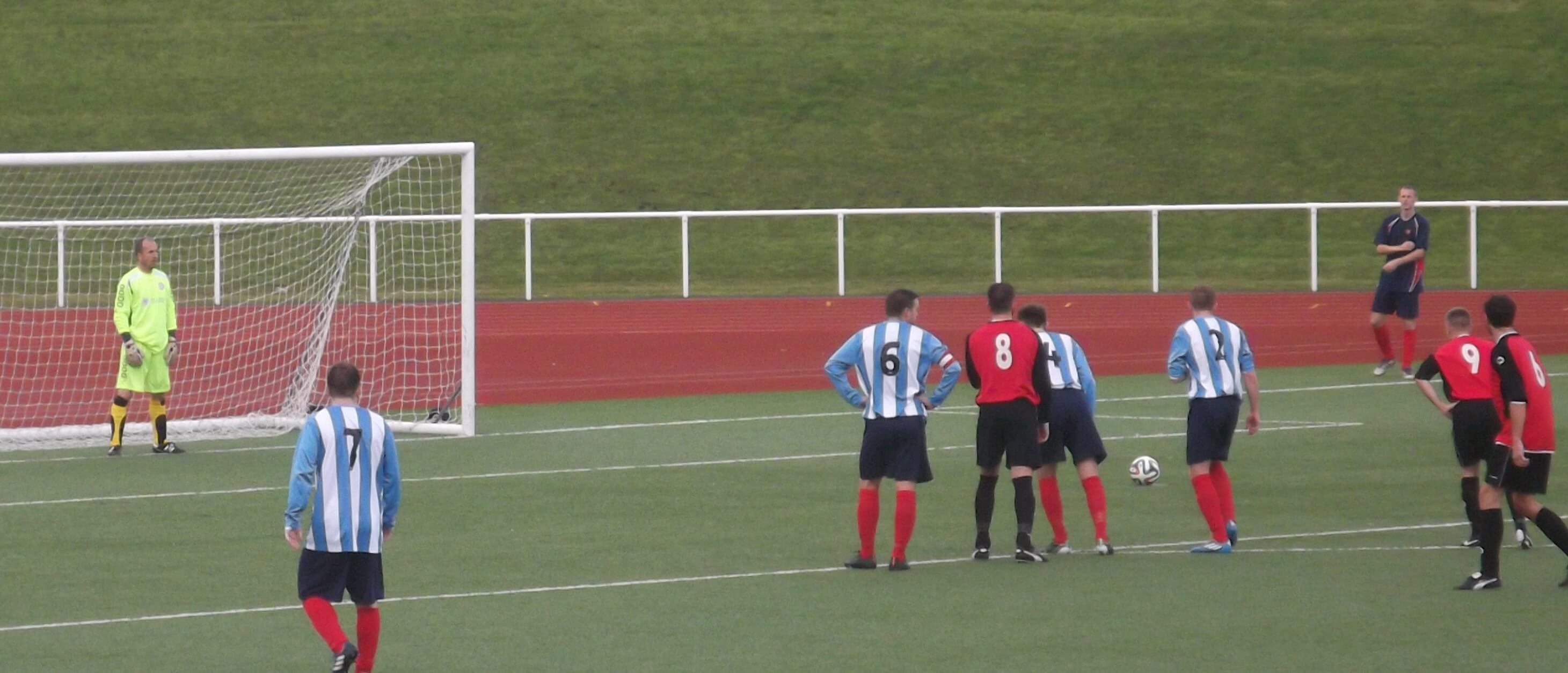 Alan Colquhoun – who has had an excellent start to the season – once again pulled off another great save to dive left and block the kick from Carluke's Watt. David Reid was looking lively up front and working hard but he was getting frustrated at the lack of good service and was getting a bit isolated as Mark McKeever's natural instinct to drift out wide often left him as a lone striker. He did come close in 23 minutes though when Cooke slipped a ball inside to him from the wide right position and he took a touch and whipped in a fierce shot that keeper Grier got down well to save.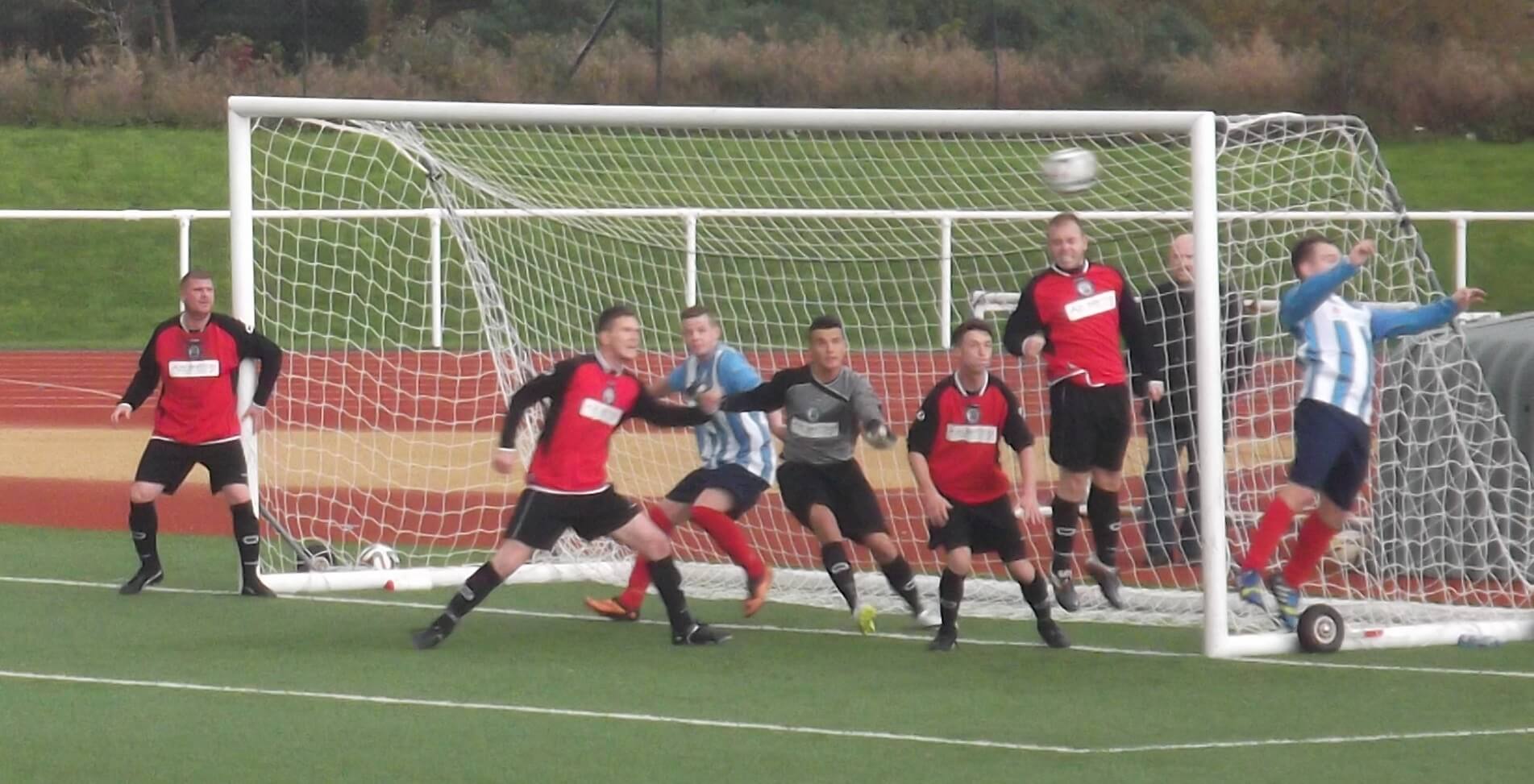 The game was picking up now and Carluke could have scored two minutes later when a ball was whipped across the six yard box with Watt just failing to connect and two minutes after that Cavanagh was put through and was only prevented from scoring by Colquhoun's rush out of the box and sliding block.
Carluke finally made their first half superiority count in the 32nd minute with a break down the right that wasn't closed down and a cross which Murray reacted to before any of the Thistle defenders and got a hooked shot away that found the bottom corner of the goal.
Thistle fought back and pressed for an equaliser before half time, but the closest they came was five minutes before the break when a free kick on the left was curled in by Brian Jack and Neil Schoneville's hheader was heading for the net until it was blocked by a clearing header two yards off the line.
Half Time: Carluke Rovers 1 Larkhall Thistle 0
By the half way stage it looked unlikely that Thistle would get anything from the game and things nearly got even worse four minutes into the second period when Cavanagh got on the end of a cross and shot from point blank range, Colquhoun again pulling off a magnificent save to keep the Jags in the game.
Twenty minutes into the second half Mark Canning burst into life with a determined run and when the Carluke defender misjudged the flight of the ball he nipped in front of Grier and took the ball round the keeper before slotting it into the empty net.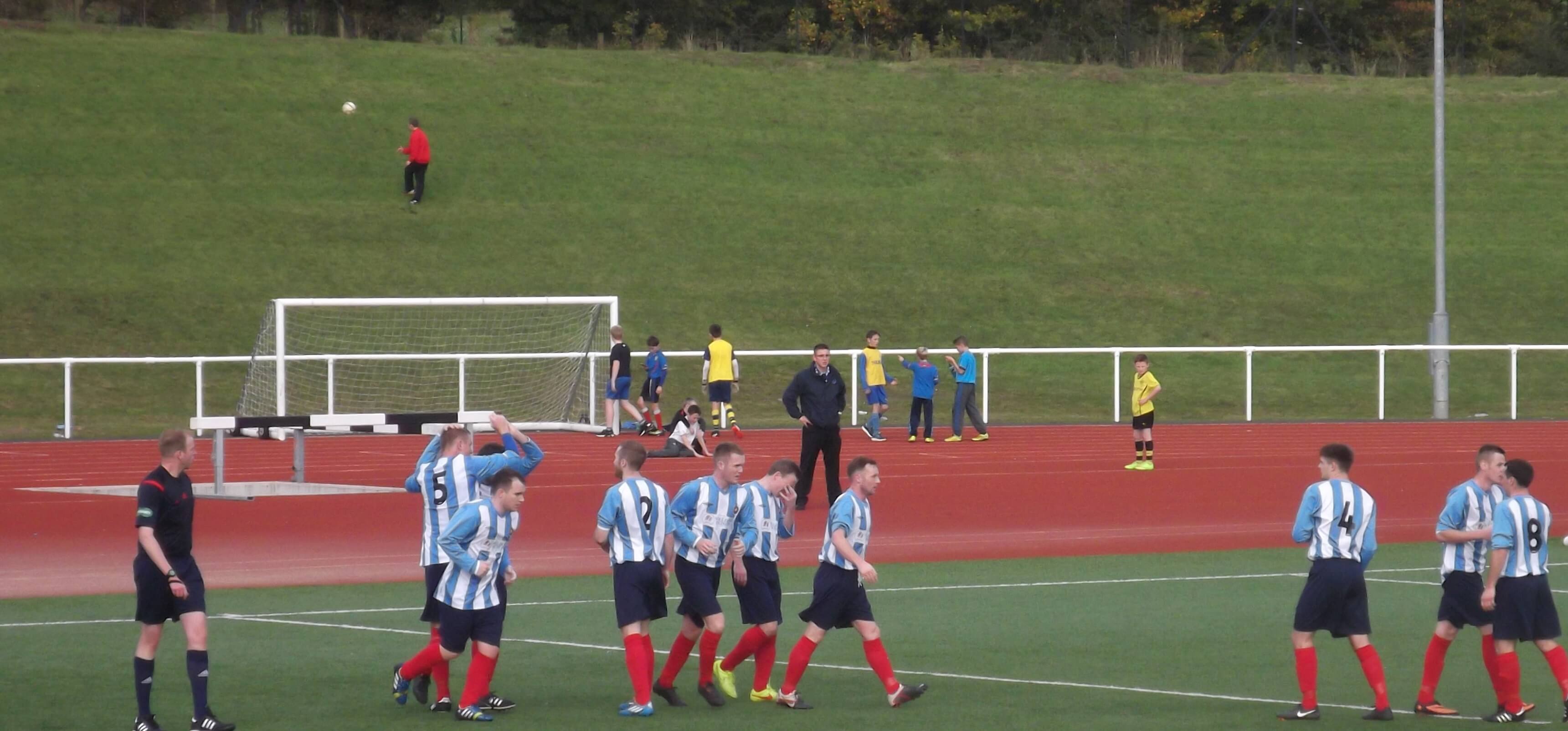 Graham Gracie then came on for Brian Jack with Reid dropping back into midfield to cover and Thistle produced the best move of the match when Nicholl swept in a cross that Gracie backheeled into the path of Cooke, who controlled it and hit a good shot on target.
Matty Clarke then replaced Cooke in midfield and added a bit of guile and urgency to proceedings and Thistle took charge of the rest of the game. A few minutes later there was an extraordinary incident when Reynolds crossed from wide on the right and the ball went all the way through to the back post before landing at Reid's feet two yards out, but it caught him out and he couldn't get a shot away.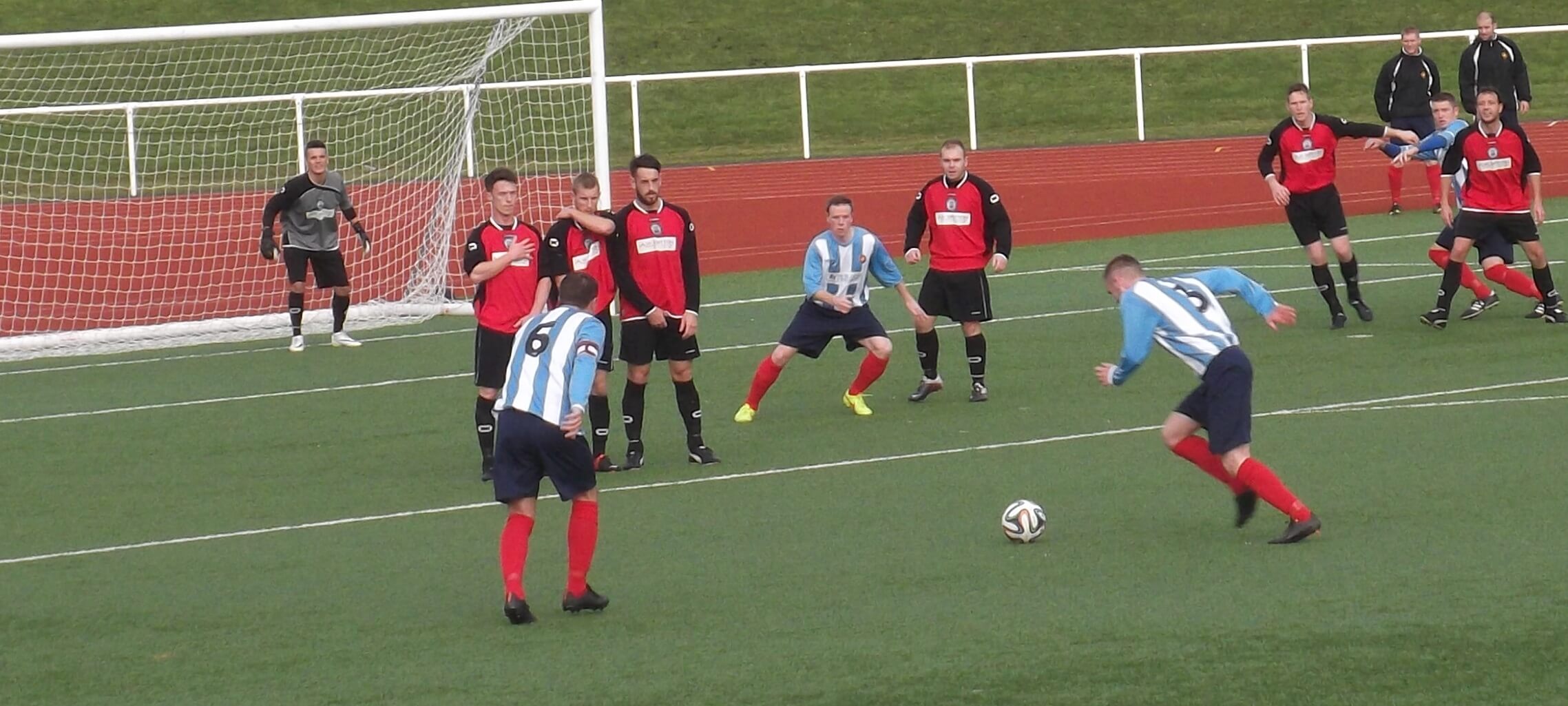 Carluke had one more chance to go back in front when Gow found himself on the end of a cross, six yards out and totally unmarked but he couldn't get his header on target. Larkhall replied with two close efforts from Ross McGeachie who had come on for McKeever but they won the game with a goal four minutes from time.
Gracie started the move with a run on the left before sliding the ball into the path of Reid, he took a touch and hit a good shot across the goal that Grier did well to stop but he only pushed it out as far as Canning who had made a good run to get to it first and tapped the ball home.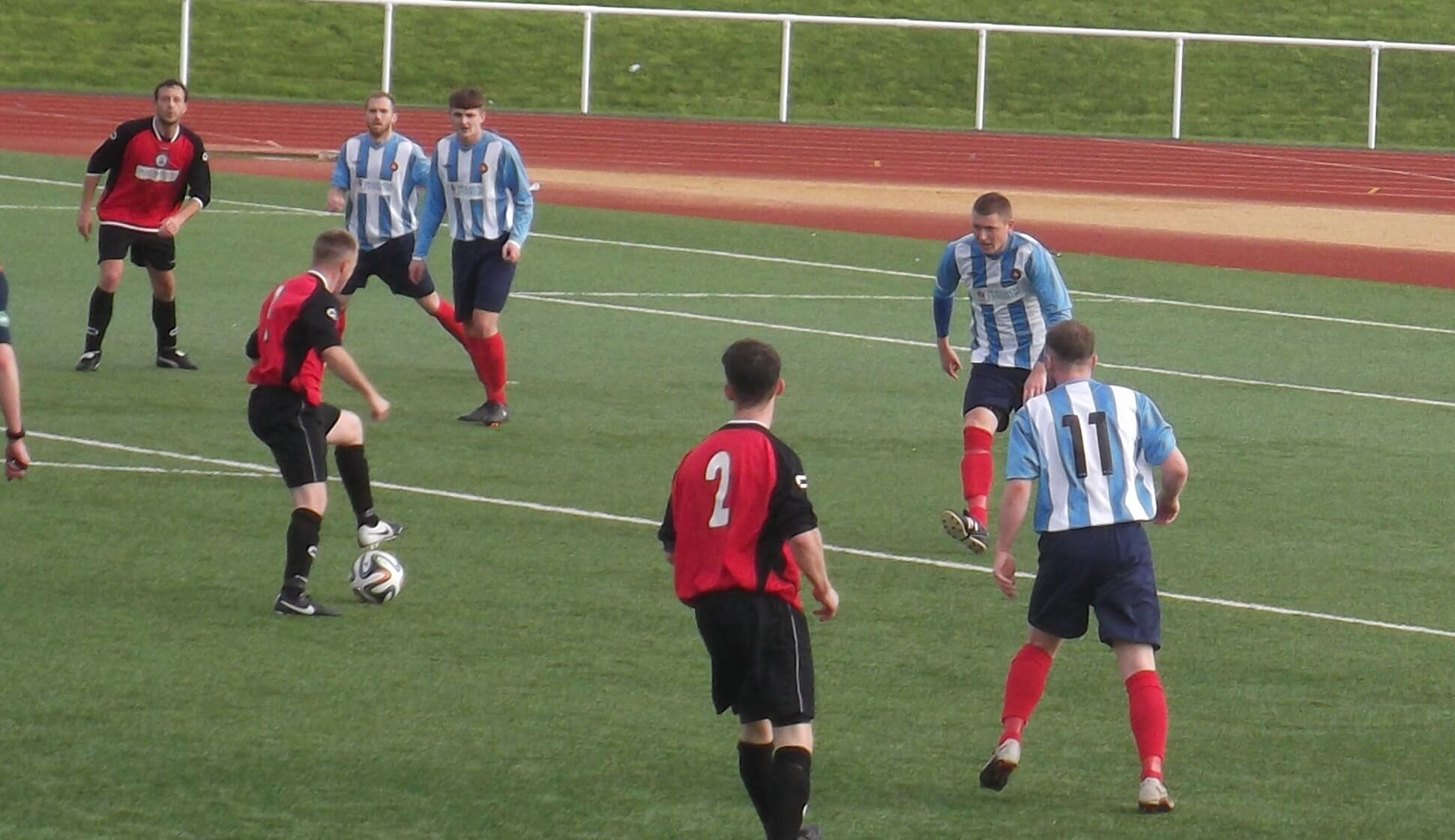 A great recovery from the Jags after things were looking a bit bleak at half time. The first half experiment with the team line up didn't really work out but when they were back on more familiar lines Thistle finished the game well on top and probably just deserved the win.
Full Time: Carluke Rovers 1 Larkhall Thistle 2
Larkhall Thistle:
Colquhoun; Reynolds, Schoneville, Marshall, Nicholl; Cooke (Clarke 69), Kelly, Canning, Jack (Gracie 65); McKeever (McGeachie 79), Reid. Subs: Brown, McAlpine (GK)
Thistle scorers: Canning (2)
Booked: Canning, Kelly
Carluke Rovers:
Grier, Stewart, Gow, Gray, S Murray, G Murray, Wilson, Dean Kindlan, Watt, Cavanagh, Weir, Subs: Haddow, Smillie, Lithgow, Thomson (GK), Dan Kindlan
Best on the day for Thistle: Neil Schoneville was heroic at times in defence but Alan Colquhoun kept Thistle in the game with three fantastic saves including the penalty.