Brig 'O Lea Stadium, Neilston
Neilston v Larkhall Thistle
Central League First Division
All three of the league leaders faced potential banana-skin away fixtures with Thistle going into their game a point clear at the top and knowing that three wins would guarantee that they finished as champions.
The game got off to a flying start with three goals in the first eight minutes. Graham Gracie latched on to a through ball from Josh Payne to give Larkhall a lead inside the first minute and that was followed by a spate of corners as they went in seach of another goal.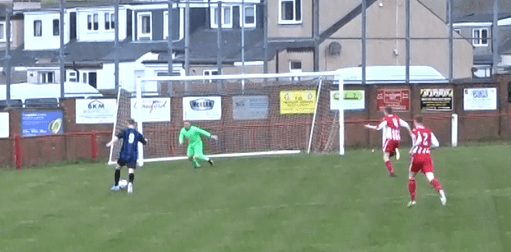 When the second goal did come five minutes later it was from another corner, Payne crossing from the left and after a couple of defenders had had a go at trying to clear, the ball sat up perfectly for Niall Reynolds to continue his scoring streak wirh a close range volley.
For a lot of teams that would have been enough to make sure that they guaranteed the points but unfortunately this season Thistle have had a bad habit of losing goals when in a winning position.
Sure enough the comeback started just two minutes later when Neilston won a throw on the left, the ball came in and the Jags defence just didn't cope with it, it was headed on and Curren sneaked in unchallenged to head in from two yards. There were claims of offside from the Larkhall bench but the Neilston man had run from well behind the defender to score.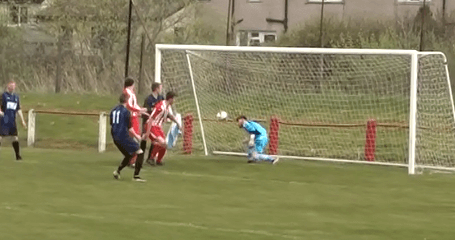 From then on the rest of the half was all about Neilston trying to equalise and the flow of the game was mostly towards the Jags goal. Thistle didn't really create anything at all and they lost all of the early fluency they had had.
The second goal for Neiston came from a quick break out of defence. McDade swept a great ball from right to left to find his team mate but the shot when it came was weak and going wide but Niall Reynolds looked to have got a touch on it to deflect it in past Thomson.
Half Time: Neilston 2 Larkhall Thistle 2
Manager Dunky Sinclair made a double substitution at half time with Mark Canning and Liam Mushett replacing Brian Jack and Andy Brown. The plan was probably to add a bit of height to the defence with Mushett but in truth the back three looked even more unsteady than it had in the first half.
Indeed David Thomson was called on to keep Thistle level 10 minutes into the half when Mushett left a passback woefully short and let in the Neilston striker, Thommo had to come out of his goal sharply to block.
The winning goal for Neilston came in the 61st minute and was again a defensive disaster for Larkhall. A mis-hit ball forward was misjudged by Reynolds, letting in Neilston's winger on the left who crossed to find his team mate running on to the ball. He made a hash of his shot but it came back out wide for a second bite at the cherry. His cross was again unchallenged and fell to Patterson who had time to swivel and fire a low shot past Thomson.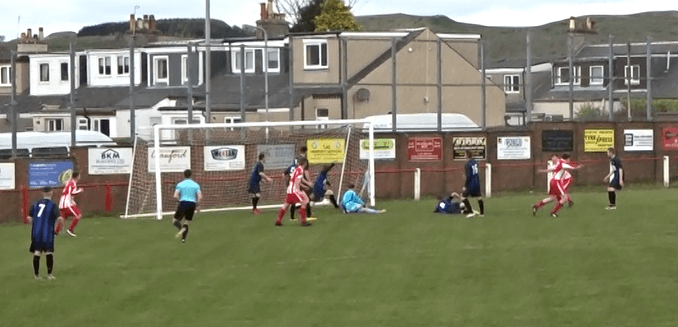 Thistle looked dispirited and with the third goal a lot of the fight went out of them. The best they could manage in the second half was a shot from Payne after a good bit of play that went high over the bar and an effort from Canning that went past the post.
Neilston were by far the more determined team and defended brilliantly after recovering from the early setbacks. Despite their league position they have lost fewer goals than Thistle and it showed today as they became the only team so far to complete the double over the Jags this season.
There were mixed results elswhere for the other teams involved in the promotion race. As expected, St Roch's won at Johnstone Burgh but Cambuslang Rangers were held to a draw at Thorniewood. That left the table with the three teams all on 51 points but Thistle slipped to third place by virtue of having the worst goal difference.
Now for the first time in ages it is out of Thistle's hands, even two wins wouldn't guarantee promotion as St Roch's have an extra game to play and Cambuslang have a vastly superior goal difference. St Roch's are in the driving seat on paper but face the toughest of midweek tasks – away to Super Premier leaders Kirkintilloch Rob Roy in the cup – before travelling to in-form Wishaw on Saturday.
Full Time: Neilston 3 Larkhall Thistle 2
Website man of the match: Hugh Kelly was the best of the rest but Graham Gracie was the pick today. Often criticised for a lack of effort, not only did he take his goal clinically but he chased every ball from the first whistle to the last and ploughed a lone furrow up front with little support.
Larkhall Thistle:
D. Thomson; Brown (Mushett 45), Reynolds, Nicholl; Kelly; Payne, Jack (Canning 45), Innes, Reid, McStay (Clarke 70), Gracie. Subs: Doyle, McKeever, S. Thomson
Neilston: Graham; Clark, Payne, Young, Geddes; Docherty, Curren, McDade, Patterson, Diack, Patterson
Scorers: Gracie, Reynolds
Booked: Nicholl