Petershill Park, Springburn
Rossvale v Larkhall Thistle
Central League First Division
Thistle's only previous visit to the Petershill Park for a competitive game was the opening fixture of last season when they were hammered 8-2, they were hoping for a big turnaround in fortunes this time out. The teams had played out a hard-fought game in December that resulted in a 2-1 Jags win and more of the same was what was required to keep up the push for the title.
Larkhall manager Dunky Sinclair made a couple of changes from last week's penalty defeat by Arthurlie, with Scott Nicholl and captain Mark Canning recalled to replace Liam Mushett and Ryan Innes.
A quiet opening 15 minutes saw both sides pay some nice football between the boxes without really creating any goal scoring opportunities.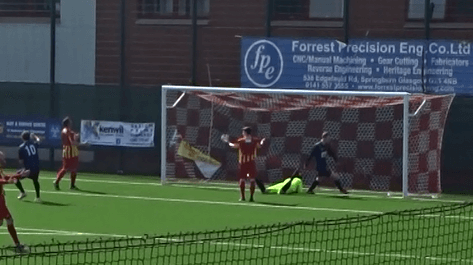 Thistle took the lead in the 17th minute when Mark Canning pinged a ball out wide that he looked to have overhit but David Reid did well to keep it in and send over a low cross that was finished at close range by Graham Gracie to give the Jags the lead.
Josh Payne has been showing signs of his early season firm in the last couple of games and he made it 2-0 in the 28th minute. Niall Reynolds did well to clear out of defence and from the resulting quick throw Gracie took the ball to the bye line and crossed for Hoff to tap in.
Thistle looked to have put the game to bed when a second from Gracie made it 3-0 just before the interval.
Half Time: Rossvale 0 Larkhall Thistle 3
The second half was less than 30 seconds old when Brian Jack made it 4-0 with a close-range header from a Gracie cross after a throw in on the left was taken quickly by Reid.
Four soon turned to five when Gracie burst through the middle and despite keeper Donnelly's best efforts to rugby tackle him, managed to scramble it into the empty net. The keeper was lucky it was a goal or he would have been sent off.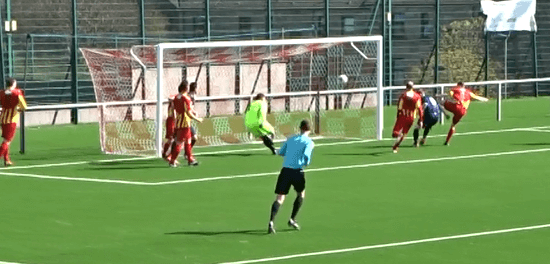 That looked to be very much end of story but Thistle's bad habit of slacking off when ahead came back, this time with what was nearly a calamatous collapse.
The first signs of a blip in the perfect day came in the 75th minute when Rossvale had a free kick that dropped on the penalty spot and took a strange bounce, landing at McDowell's feet who swept it into the net from his position on the deck.
It looked like a consolation goal and when McGrath added a second six minutes later it was still nothing more than a bit of a annoyance that 5-0 had turned to a less impressive 5-2. The manner that he strolled through to get his shot away left a question mark about the defence though and Thomson, although he had been excellent didn't cover himself in glory with his attempt to save it.
Possibly the big turning point of the game came minutes later when Thistle captain Mark Canning was sent off for swearing at the referee. A decision that angered the bench, players and supporters given that the referee had just booked the home keeper for the same offence. Being a man down against a fit young side who are used to pinging the ball about on their artificial surface was always going to take its toll.
Gracie should have restored the four goal advantage a minute later with a point blank header from a corner on the right, but instead it was Rossvale who pulled another one back. The manner that the goal was scored must have triggered off alarm bells as the home side took the ball from deep in their own half and passed it right the way through to Seaton who backheeled it in after drawing Thomson off his line, a move than spanned three quarters of the length of the park without a challenge from a Thistle player.
Things started to get really bad though right on the 90 minutes when Niall Reynolds capped his own personal game of two halves with an own goal, heading in from a cross. Neilly had been outstanding in the first hour of the game and was heading for man of the match before the late defensive collapse.
Thistle hung on by the skin of their teeth in the end after a frantic last two minutes that saw them survive a penalty claim then a header that Rossvale should have equalised with right at the death.
A game that should have been out of sight with the best win of the season turned completely sour and the Thistle fans trooped out almost dejected at the end. It was a bizarre experience coming away from what was in reality very good away win feeling like you had lost.
Full Time: Rossvale 4 Larkhall Thistle 5
Website man of the match: Graham Gracie again, no real contest here. Involved in all of the goals scoring three and setting up the other two.
Larkhall Thistle:
S. Thomson; Brown, Reynolds, Nicholl; Kelly (Mushett 83); Payne, Jack, Canning, Reid (Stewart 80); McStay (Rutherford 64), Gracie. Subs: McKeever, Innes
Rossvale: Donnelly, Hadden, Doherty, Leadbetter, McDowell; Holmes, Forbes, O'Brien, Spalding; Baird, Seaton
Scorers: Gracie (3), Payne, Jack
Booked: Kelly, Brown
Sent off: Canning